In the Community
Enchanted Trail | Sendero Encantado
Join us for our annual fall festival. (Nuestro festival anual de otoño)
Friday, October 05, 2018
5:30pm - 8:00pmPhoenix, Arizona
Location Details
Nina Mason Pulliam Rio Salado Audubon Center
3131 S. Central Ave., Phoenix, 85040
Parking is available at the center, or on the north side of the Salt River bridge, at a park entrance to the Rio Salado Habitat Restoration Area. Attendees are encouraged to park there and cross the bridge (which will be lit with string lights and luminaries) if the center's parking lot is full.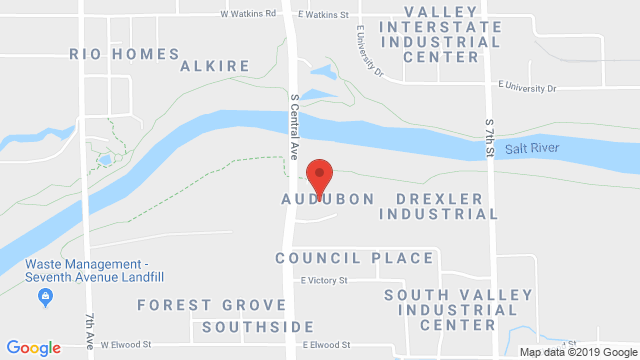 October 5 and 6, 2018
5:30–8 p.m. both nights
FREE for all ages
Sponsor this one-of-a-kind event to support children and families while reaching your target audience!
Do you want to volunteer at this event? Learn more here!
Este evento familiar gratuito para todas las edades se extiende por dos noches, el 5 y 6 de octubre, 5:30 – 8:00 p.m., en el centro de Río Salado Audubon, ubicado en 3131 s. Central Ave., Phoenix 85040
Join us for a night of family fun at our annual fall festival, Enchanted Trail, and get a rare glimpse of the Rio Salado by night while learning about Arizona's nocturnal wildlife.
Enchanted Trail is an annual, bilingual and educational family festival held every October at the Rio Salado Audubon Center in South Phoenix. The "nature by night" fall festival teaches children and adults about nature, science, and Arizona's nocturnal wildlife through a scavenger hunt and several other fun activities.
El sendero encantado es un festival anual, bilingüe y educativo de la familia, celebrado cada octubre en el centro de río Salado Audubon en el sur de Phoenix. El Festival de otoño "naturaleza por noche" enseña a los niños y adultos acerca de la naturaleza, la ciencia, y la vida nocturna de Arizona a través de una cacería de carroñeros y otras actividades divertidas.
While exploring the trail, you will enjoy:
Nature by night
Guided night hikes
Food concessions
Live wildlife
Halloween crafts
A spooky bat cave
and much more!

Naturaleza de noche
Caminatas Guiadas por la noche
Bocadillos
Animales de Arizona en vivo
Artesanías de Halloween
Explora una cueva de murciélagos