Nina Mason Pulliam Rio Salado Audubon Center
As Americans we are becoming more urbanized and losing our connection to the natural world.
About the Center
The LEED Platinum certified Nina Mason Pulliam Rio Salado Audubon Center is a nature center in the heart of Phoenix's Rio Salado Habitat Restoration Area—a 600-acre park space in the historic Salt River corridor. Located less than two miles from downtown Phoenix, the Center is a gateway to a lush Sonoran riparian habitat used by over 200 species of birds and other wildlife.
The free admission Center offers interactive exhibits, an interpretive loop trail, connections to the Rio Salado Habitat's sixteen miles of hiking and riding trails and a variety of programs, including family nature walks, wildlife encounters, birding classes and bird walks, school field trip programs and more. Click here for more information about the Center's programs. To view a map of the trail system, click here.
Designed by Weddle Gilmore Architects, the Center's sustainable features include a photovoltaic system, a waste water recycling system, low water use fixtures, pervious surfaces and bioswales to capture rain and run-off water and energy efficient mechanical and electrical systems.
The Nina Mason Pulliam Rio Salado Audubon Center is the headquarters of the Arizona state office of the National Audubon Society.

Hours
Fall & Spring Hours: September 1st - May 22

Open Tuesday through Sunday, 9am to 4pm
Closed Mondays


Summer Hours: May 23 - August 31

Open Monday through Friday, 8am to 1pm.
Closed Saturday & Sunday



2015 Holiday Hours
New Years Day, CLOSED

January 2, OPEN 9am -2pm

Memorial Day weekend, CLOSED (Summer hours start)

Memorial Day, CLOSED

July 3rd, CLOSED

Labor Day, CLOSED (Summer hours end)

Thanksgiving Day, CLOSED

Friday - Sunday, after Thanksgiving, OPEN 9am -2pm

Christmas Eve, OPEN 9am -2pm

Christmas Day, CLOSED

Saturday & Sunday, after Christmas, OPEN 9am -2pm

Decemer 30 and 31, OPEN 9am -2pm


On the days the Center is closed, the birds will be here, just not us! You can still explore the 600 acre restoration area and enjoy six miles of trails outside of the Audubon gates.
Trails are open 7 days a week, 365 days a year, from dawn to dusk.

Admission is FREE
3131 S. Central Avenue
Phoenix, AZ 85040
(602)-468-6470
How you can help, right now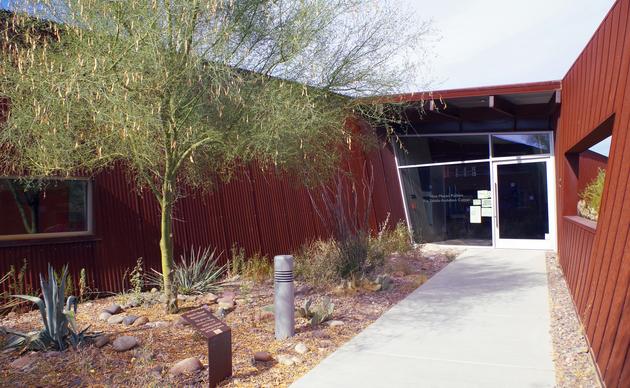 Sponsor Enchanted Trail 2018
Want to reach a new audience? By sponsoring Audubon's Enchanted Trail event, your business can reach thousands of new potential customers.