Join Audubon Arizona, Wild at Heart and the City of Phoenix to help Burrowing Owls in the Phoenix valley!
Helping the Downtown Owls
Frustrated that you were not able to help Burrowing Owls this spring? Never fear!
We are "owlways" looking for ways to spread the word about the Downtown Owls project. Corporate groups, clubs, and school groups are more than welcome to join our workdays or to request a program. Thanks for your interest!
Downtown Owls at the Rio Salado Habitat Restoration Area
Burrowing owls (Athene cunicularia) are unique because they are the only raptor in the world that lives and nests underground. These gregarious predators do not dig their own burrows but take over holes created by animals such as ground squirrels. Once common throughout the west, this pint-sized owl is losing ground at an alarming rate due to development and climate change.

According to the National Audubon Society's report, Survival by Degrees, by 2080, this diurnal owl species could lose 77 percent of its current breeding range. Climate change will disrupt its winter range as well, leaving only 33 percent intact, shifting the remaining 67 percent elsewhere.

Artificial burrows? Burrowing Owls take readily to man-made homes. The Wild at Heart Raptor Rehabilitation Center developed a burrow design that works well and that volunteers can construct easily. Thanks to the City of Phoenix's cooperation, the Rio Salado Habitat Restoration Area contains 200+ owl burrows, built over 1000 volunteers. Our 100th owl was released in April 2016 and the project continues.

Why Rio Salado? The Rio Salado Habitat Restoration Area provides the food sources and open space these owls need to thrive. In addition, visitors get to learn about the owls, the challenges they face, and how to help. "Downtown Owls" began in 2013 as an urban wildlife habitat creation project in the City of Phoenix's Rio Salado Habitat Restoration Area and has now grown to include several other sites valley-wide.

Why has the owl release protocol changed over the years? New data informs all our activities. Our intent is to be highly effective and to cause as little stress to the birds as possible during the process. Thanks to a two-year study by New Mexico State University graduate student Dejeanne Doublet, we learned that birds do better when released in pairs or trios rather than in larger groups. We also changed the timing for releases from spring to fall and increased the burrow opening size. Dejeanne's research is in final review for publication, but you can preview her findings here.

What can I do? Audubon wants to know how the Habitat's owls are doing in their new homes! Report your sightings to eBird and check our Conservation Workday schedule for upcoming opportunities.
Owl Viewing Tips
Where is the best place to see the owls? There are five relocation sites at the Rio Salado, but you have the best chance of seeing the owls at the 7th street and 16th street locations. Learn more and check out our Downtown Owls map in this handy brochure.

When should I go? During the warmer months, burrowing owls are most active in the cool morning and evening hours. During the winter, owls can be active mid-day.

What should I bring? Binoculars aren't necessary but they are very helpful as they will allow you to see the birds from a distance without disturbing them.

What do burrows look like? Burrowing owl burrows are marked with river rock piles that the birds perch on. Burrows are constructed of flexible irrigation tube that go underground into upside-down 5 gallon buckets (buckets aren't visible, of course)

Am I disturbing the owls? Burrowing owls are tolerant of human activity, but they do need their space. Please be respectful, keep your pets leashed, and do not harass the birds.

How can I help? Check out our Conservation Workday page for upcoming project dates or reach out to Cathy Wise for more information. Short on time? Financial donations are always welcome!
Owl's Eye View of the Burrow
A mother Burrowing Owl (we call her B79) had been hard at work raising owlets at 16th Street. She was rescued from 43rd Ave and Southern on 9/11/14, released in the Rio Salado Habitat on 3/16/15, and stuck around to lay 3 eggs in Spring 2016. Check her out in the video below, and watch the rest of the Owl Cam footage here.
Artists Taking Action
In 2013, over half of our Conservation Workday volunteers knew nothing about Burrowing Owls or how they could help. . To remedy this, Audubon Arizona partnered with Phoenix Center for the Arts to host the Downtown Owl poster contest. We received over 50 entries and selected artwork continues to be used to raise money for the project, for outreach, and in our education programs.
Read More
August 10, 2016
— Thanks to a crowdsourced protection effort led by Audubon Arizona, the owls are once again thriving.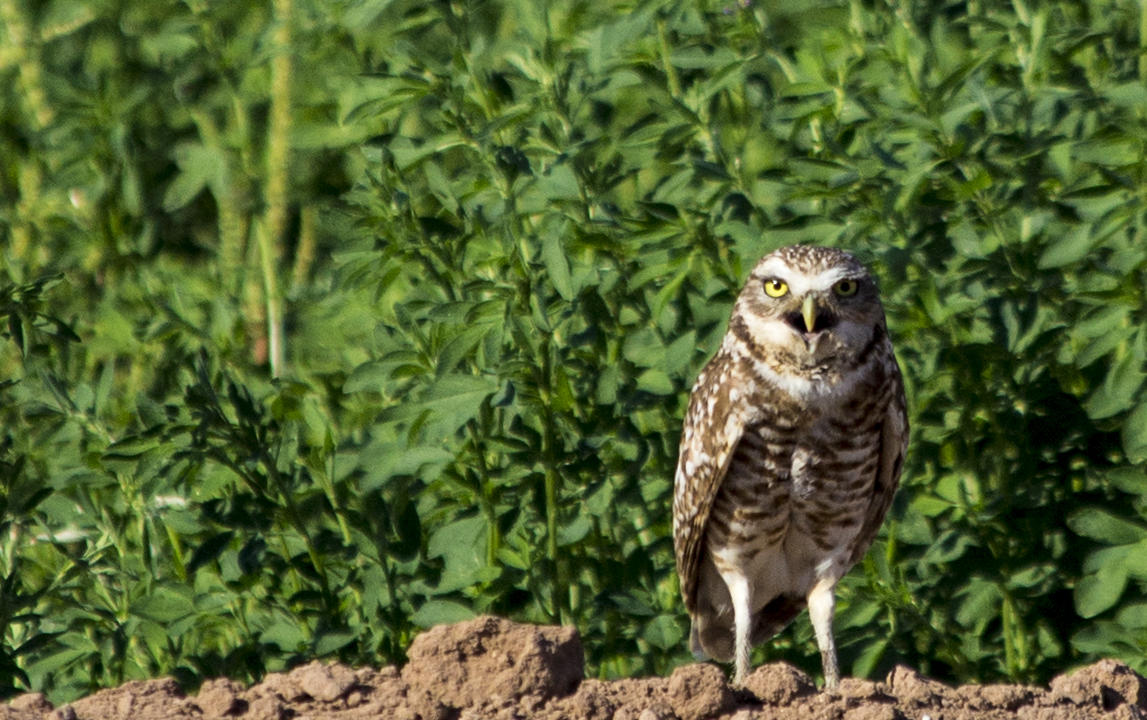 How you can help, right now